This review is published in partnership with Melbourne International Film Festival's 2017 Critics Campus program. The Butterfly Tree screened at the festival this year.
---
From its opening moments, The Butterfly Tree announces itself as a vivid, stylised and nostalgia-tinted small town drama. Unfortunately, its luxurious visuals also serve to paper over the film's shaky plot and questionable sexual politics, the latter in particular marring what could otherwise have been a promising debut feature for Australian writer-director Priscilla Cameron.
Following the death of his mother, 13-year-old Fin (Ed Oxenbould) finds solace in collecting butterflies at the film's titular tree. Fin's father Al (Ewen Leslie) is having a half-hearted affair with a student (Sophie Lowe) — or at least attempting to. When father and son both encounter burlesque dancer-turned-florist Evelyn (Melissa George), their already fractured relationship threatens to shatter entirely.
The plot's central concern — Fin's relationship with Evelyn, and his accompanying Oedipus complex — is also its biggest hindrance. He's searching for a replacement for his mother's love, but is also preoccupied with breasts; the conflation of the two in Evelyn is not only disturbing, but made worse by the film's inability to critically examine the nature of Fin's relationship with her in any way. Al and Shelley's affair is posited as a counterpoint, except Shelley is an adult, and also attempts to blackmail Al the moment their relationship falters. By obscuring any potential power dynamics, the film fails to draw any strong conclusions about what it's presenting.
The Oedipal tone also permeates scenes which would otherwise be funny or endearing. Fin kisses his mother's photo at a small shrine he's hidden away, an innocent expression of love, then later kisses a photo of Evelyn's chest — the earlier moment marred by association. When the two joke in Evelyn's greenhouse, she essentially dares him into upskirting her. Not every film is required to make points as obvious as "don't encourage a 13-year-old's sexual interest in you", but The Butterfly Tree suffers from its insistence on the positivity supposedly inherent in its central relationship.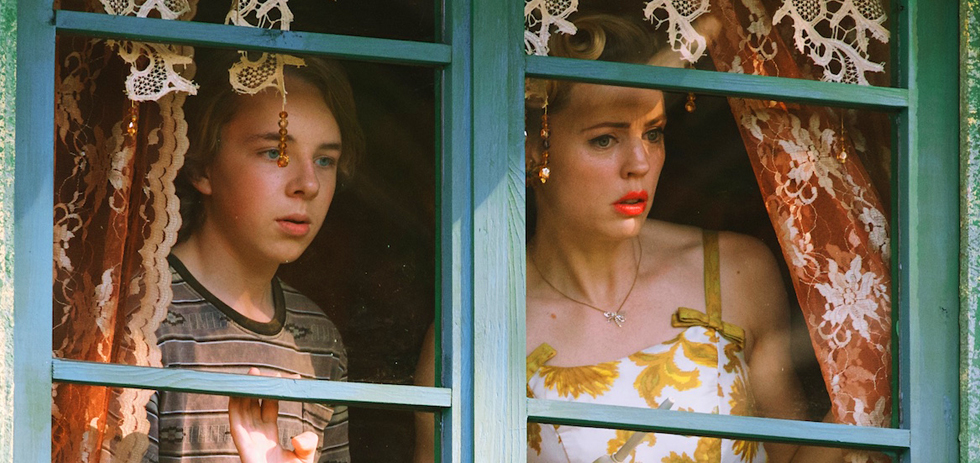 Evelyn is simultaneously the most intriguing and the most neglected character. Always viewed through a lens — whether it's Fin's adolescent voyeurism, or a literal camera — there's barely a moment for her to be seen as more than an ethereal wedge between father and son. It's a film featuring a woman mourning the loss of her appearance and physical health, repeatedly intruded upon by a teenage boy learning to objectify someone for the first time. So much that could have been explored — especially through George's performance and cultural baggage as a one-time teen soap icon — is left untended.
Jason Hargreaves' richly saturated cinematography is the constant saving grace in an otherwise uneven 96 minutes. Coupled with Charlie Shelley's production design and Chrissy Flannery's costume work, the film is uniformly gorgeous. The hazy fantasy scenes (reprised from Cameron's 2012 short film Beetle Feeders), are likewise compelling to watch as tiny escapist vignettes, bright pops of colour and sound.
The film's mostly satisfactory dialogue, meanwhile, occasionally stumbles into stilted territory. When Evelyn invites Al over for cake, he flirts back, saying he has "cakey tricks of his own"; Evelyn launches into a conversation with Fin about how "she used to be obsessed with why men had nipples", as though this is a completely everyday thing to say 1. Despite these rough patches, the cast commit to the material and perform it well; Ewen Leslie in particular delivers a complex and emotional performance as a man letting his life fall down around him after the loss of his wife.
The culmination of the father-son love triangle is one of bitterness and fury, their anger towards each other simultaneously self-righteous and self-destructive. But whilst their emotional outbursts eventually explain the long-held resentment between the two, it does little to add any emotional value to the story. A weak facsimile of Virginia Woolf's suicide note lets the film down in its final moments, a pale imitation of a well-known tragedy which adds nothing meaningful to the film's conclusion.
It's tough to call the film a 'coming-of-age' drama when the main character, critically, doesn't come of age. When Fin visits Evelyn in hospital, her head shaved, he tells her he "liked her better before", then presents her with a photo album with snapshots he stole from her house. Post-double mastectomy, he prods her prosthetic breasts as they sit on her bedside table. But though there's much more to growing up than working out you like boobs, it isn't quite there in The Butterfly Tree. With its melodramatic highs and lows, The Butterfly Tree is every bit as adolescent and as troubled as its protagonist.